Projects Recruited For
Research Recruiting sources respondents for all kinds of projects, including:
Focus groups
Interviews
Ethnographies
Usability studies
Online discussions
Surveys
You design the project, we will find you the respondents.
Screener development, project management, and payment of respondent incentives can also be provided.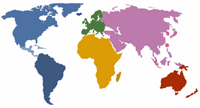 Local National & Global
Research Recruiting will find you the best respondents for your local, national and international projects. In addition to the United States, we have recruited respondents from countries across the globe including: Australia, France, Germany, India, Israel, Japan, Russia, Singapore and the UK. We recruit in all time zones.
Respondent Sourcing
We are creative in our respondent sourcing! We use social networks, Internet research, personal connections, and internal databases to find intelligent, articulate, and representative participants. Our respondent sourcing and research is unparalleled.